Copyright: © World Bank. Further permission required for reuse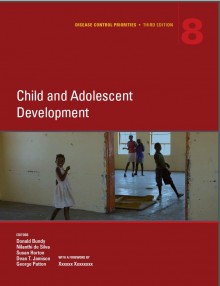 About Volume 8:
More children born today will survive to adulthood than at any time in history. It is now time to emphasize health and development in middle childhood and adolescence—developmental phases which are critical to health in adulthood and the next generation.
Child and Adolescent Health and Development explores the benefits that accrue from sustained and targeted interventions across the first two decades of life. The volume outlines the investment case for effective, costed, and scalable interventions for low-resource settings, emphasizing the cross-sectoral role of education. This evidence base can guide policy makers in prioritizing actions to promote survival, health, cognition and physical growth throughout childhood and adolescence.  
News and Events
Dr. Donald Bundy, lead editor of the DCP3 Child and Adolescent Development volume, addressed the 34th Annual Meeting of the European Society for Paediatric Infectious Diseases (ESPID) as the keynote speaker in Brighton, UK on May 10 2016.
On Friday, May 20 in Geneva, Switzerland, DCP3 and the WHO-Eastern Mediterranean Regional office hosted a policy forum on child and adolescent health and development, which brought together policymakers and experts to share insights and perspectives in order to enhance the relevance and usability...
On March 7th and 8th, 2016, representatives from the DCP3 Child and Adolescent Health and Development volume convened for the Africa Region Roundtable, hosted by the African Union in Addis Ababa, Ethiopia, to validate the three essential packages drafted for inclusion in the volume.
Volume Editors
Coming in November 2017

Download the entire volume from The World Bank 
Purchase copies of the volume from Amazon, in paperback or hardcover.