26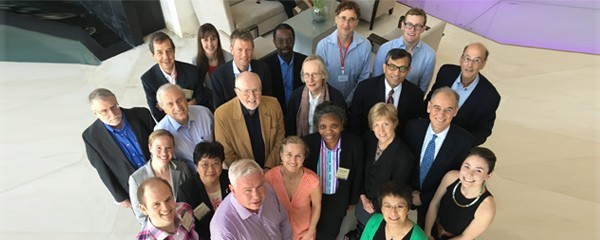 The Prince Mahidol Award Conference (PMAC) is an annual international conference focusing on policy-related health issues of global significance that global health institutes can use for advocacy and for seeking international perspectives on important global health issues.  This year's PMAC and its adjoining events drew a substantial group of experts to discuss priority setting in Bangkok, and Disease Control Priorities Network hosted a series of events in conjunction with the conference. 
Side Events
On the morning of January 27, DCPN hosted the side event "Building Financial Risk Protection into Essential Health Benefits Packages for Fair Universal Health Coverage (UHC)".  Speakers presented DCP3's work in Ethiopia which is being conducted in collaboration with the Ethiopian Ministry of Health and Priorities 2020, a project at the University of Bergen.  The session was organized by DCP3 Advisory Committee member Ole Norheim,  Rachel Nugent, and author Stéphane Verguet.
Additionally, the DCP3 Advisory Committee to the Editors (ACE) convened for its fourth meeting on January 27 and 28.  The objectives of this meeting were to:
Review status of the DCP3 volumes

Review Chapter 1 of the Cardiovascular, Respiratory and Related Disorders volume

Discuss DCP3 costed essential packages of services

Discuss "Universal Health Coverage and Essential Packages of Care" and "Messages for Population-based Interventions" chapters in Volume 9

Preview dissemination plans for Spring 2016
Conference Programming
During PMAC regular programming, Project Director Rachel Nugent organized a session on demonstrating the relevance of economic evaluation to multiple objectives of UHC on January 30.  This session featured a discussion how economic evaluation can address considerations for outcomes beyond cost-effectiveness, such as equity and affordability.  Speakers and panelists included DCP3 authors Stéphane Verguet, Solomon Memirie, Elliot Marseille, Melanie Bertram, and Anna Vassal.
Series editor Dean Jamison spoke at the closing plenary on January 31, organized by DCPN Program Officer Damian Walker, who is the Deputy Director of Data and Analytics, Global Development, and Strategy Planning at the Bill & Melinda Gates Foundation.  The plenary, entitled "Better Decisions for Better Health: from Rhetoric to Reality" featured DCP3 Advisory Committee member and Regional Director of the WHO Eastern Mediterranean Regional Office Ala Alwan.