27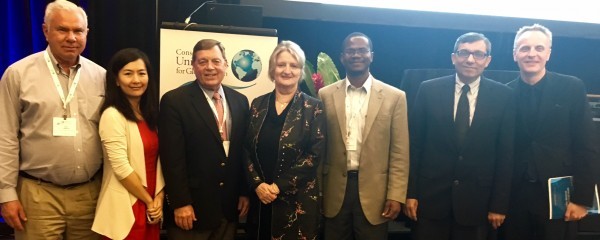 The 7th annual Consortium of Universities of Global Health (CUGH) conference featured sessions on two DCP3 volume presentations:  Reproductive, Maternal, Newborn, and Child Health (Volume 2); and Mental, Neurological and Substance Use Disorders (Volume 4) on April 9 and 11, respectively. 
This CUGH session featured the DCP3 volume on Reproductive, Maternal, Newborn, and Child Health (RMNCH) and included presentations by the volume editors and authors.  Panelists addressed RMNCH needs in low- and middle income countries by 2030, including the impact and costs of an essential package of interventions along the continuum of care.
Additionally, attendees presented the volume's main messages related to maternal and child mortality in the MDG era and implications for achieving SDG targets by 2030.  Panelists included volume editors Robert Black (Johns Hopkins Bloomberg School of Public Health) and Marleen Temmerman (Aga Khan University East Africa), as well as authors Li Liu (Johns Hopkins Bloomberg School of Public Health), Alex Ezeh (African Population and Health Research Center), and Zulfiqar Bhutta (Aga Khan University).  The session was moderated by The Lancet editor Richard Horton, and opening remarks were provided by DCP3's lead series editor Dean Jamison (University of Washington Department of Global Health).
Lead volume editor and Professor at the London School of Hygiene and Tropical Medicine, Vikram Patel, and fellow volume editor Maria Elena Medina Mora, Director of the National Institute of Psychiatry de la Fuenta Muiz, presented the Mental, Neurological, and Substance Use disorders volume as part of the morning plenary session.  Volume 4 serves to address the inequalities in prevention and treatment of MNS disorders by governments and development agencies around the world, by providing evidence on policies and interventions that should be prioritized in resource-constrained settings.  It focuses on the need for evidence on effective and cost-effective interventions, which can be appropriately implemented across a range of population, community, and health care delivery platforms. 
In addition to the CUGH conference, the volume was featured as part of the World Bank and WHO's Spring Meeting entitled, "Out of the Shadows: Making Mental Health a Global Priority." Volume editors Vikram Patel and Dan Chisholm, along with series editor Dean Jamison, presented key findings from the DCP3 MNS Disorders volume, including cost-effectiveness results for essential interventions to treat and prevent MNS disorders.