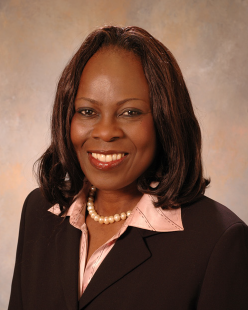 On October 3, Dr. Olufunmilayo I. Olopade gave a lecture entitled "Leapfrogging Global Breast Cancer Research" as part of the Washington Global Health Alliance Discovery Series.  Dr. Olopade is the Walter L. Palmer Distinguished Service Professor of Medicine at the University of Chicago.  She also serves as the Director of the Center for Clinical Cancer Genetics and Global Health.
An international leader in cancer genetics, Dr. Olopade studies familial forms of cancer, molecular mechanisms of tumor progression in high-risk individuals as well as genetic and epigenetic factors contributing to disparities in cancer outcomes in diverse populations.  Her current laboratory research is focused on using whole genome technologies and bioinformatics to develop innovative approaches to reduce discrepancies in cancer outcomes.
The Washington Global Health Alliance Discovery Series is a collaboration between University of Washington's Department of Global Health and the Washington Global Health Alliance and is co-led by DCP3 Project Director Rachel Nugent.  Visit the discovery series website to learn more about upcoming lectures and to join the global health list serv. 
Click here for a PDF version of the invitation.