The editors and lead authors of the cardio-metabolic and respiratory diseases volume (Volume 5) gathered in Boston on April 10 and 11 to discuss draft chapters and main messages of the volume.  The objectives of the meeting were to:
Review progress in developing the main policy-relevant messages of the volume
Identify and discuss overlaps and gaps in how the chapters are covering the topics, and develop plans to remedy if needed
Consider the preliminary economic analysis produced for DCP3 on cardio-metabolic and respiratory conditions in LMICs, and plan for additional analyses where needed.
The meeting was co-hosted by Harvard Medical School and was held at the Joseph B. Martin Center in Cambridge.
Resources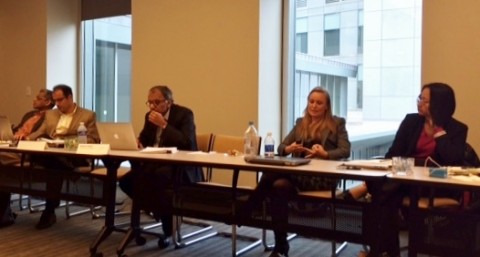 Volume authors (from left) Krishna Kumar, Ashkan Afshin, Rajeev Gupta, Melanie Bertram, and Lijing Yan participate in the discussion of Chapter 23, "Investment case for Non-Communicable Diseases".
Thursday, April 10, 2014

to

Friday, April 11, 2014