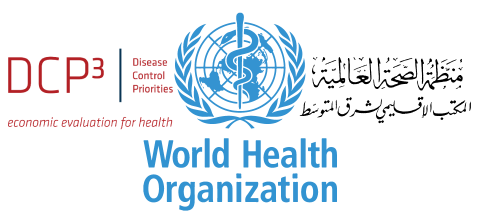 Disease Control Priorities (DCP) and the WHO Regional Office for the Eastern Mediterranean (WHO-EMRO) jointly convened an economic evaluation capacity building workshop December 14-18, 2014, hosted at the WHO-EMRO office in Nasr City, Egypt.  
In February 2013, a workshop was jointly organized by WHO-EMRO and UoW to develop the skills of a pool of experienced researchers from EMR to be able to conduct modelled health economic evaluations with application to NCDs-related interventions. This second workshop planned to build further research capacities in the area of health economic evaluation and engage with the previously trained researchers to advance their ongoing studies. The workshop focused on sharing up-to-date developments in economic evaluation techniques and regional and international country applications. The workshop also discussed a plan of action to assist individual member states in adopting and implementing economic evaluation techniques.  The workshop was conducted by DCP staff members Rachel Nugent, Carol Levin, Stephane Verguet, and Elizabeth Brouwer. 
Click here for the full workshop agenda.
The workshop was conducted in two well-integrated parts: an advanced course on Cost-Effectiveness Analysis methods with application to NCD topics, and an introduction to the purpose and methods of Extended Cost-Effectiveness Analysis (ECEA). The Workshop is jointly organized by the "Health Economics and Financing" unit of the Department of Health System Development and the "Noncommunicable Diseases" unit of the Department of Noncommunicable Diseases and Mental Health at WHO-EMRO, in collaboration with the DCP team. 
Workshop Presentations
Day 1:
Day 2:
Day 3:
| | | |
| --- | --- | --- |
| |     | |
| DCP Principal Investigator Dr. Rachel Nugent provides opening remarks on Day 1 of the capacity building workshop on December 14. |   | Drs. Aya Mostafa K. Mohamed, Saadiya Razzaq, Melanie Bertram, and Rachel Nugent enjoy a break during Day 2 of the workshop. |
| | | |
| --- | --- | --- |
| |     |   |
| DCP3 Senior Health Economist Dr. Stephane Verguet gives a presentation on modelling effectiveness on Day 2 of the workshop. |                                                                                                                                                                                               |   |
| | | |
| --- | --- | --- |
| |     | |
| Workshop participants and organizers on the final day of the workshop, December 18.                              |   | Flags of the 21 countries represented by the WHO Regional Office for the Eastern Mediterranean. |
DCP - EMRO Collaboration 
WHO-EMRO is working with the Disease Control Priorities project, based at the University of Washington's Department of Global Health (DCP-DGH), to promote Health Economic Evaluation as a tool for priority setting in the health sector in countries of the Eastern Mediterranean Region (EMR). The collaboration aims to build national and regional capacities in the area of health economic evaluation to be able to conduct research to generate evidence on the economics of health and health care in EMR, focusing on the five priorities of WHO-EMRO's work with its Member States; namely, health system strengthening, noncommunicable diseases (NCDs), communicable diseases, maternal and child health, and emergency.
Sunday, December 14, 2014

to

Thursday, December 18, 2014