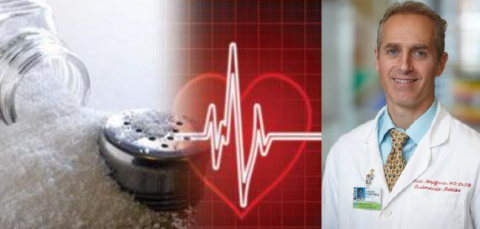 A recent modeling study led by DCP3 author Dr. Dariush Mozaffarian found that 1.65 million deaths due to cardiovascular-related conditions in 2010 were attributed to sodium intake greater than the World Health Organization's recommended level of 2.0 grams per day.  The study was published in the August 14 edition of the New England Journal of Medicine.
Dr. Mozaffarian and his co-authors analyzed data from over 200 surveys of salt intake in addition to global nutrition data to find variability among age, sex, and geographic location. The researchers found the average global sodium intake in 2010 to be nearly twice the recommended amount (3.95 g per day).  Furthermore, 4 out of 5 of these sodium-related deaths occurred in low- and middle-income countries.  
Dr. Mozaffarian is the lead author for the DCP3 chapter on Diet and Nutrition in the Cardio-metabolic and Respiratory Diseases volume.  DCP3 chapter co-author, Dr. Renata Micha, also contributed to the sodium study.
Additional Resources