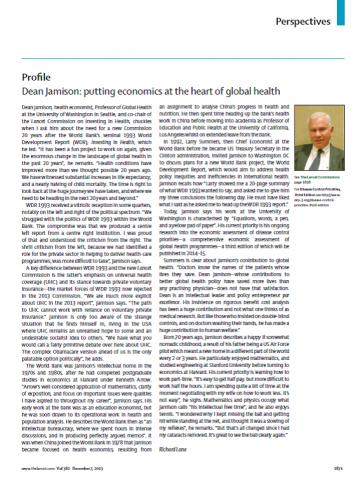 The Lancet
's Richard Lane sat down with 
DCP3 
series editor and
Commission on Investing in Health
co-chair
Dean Jamison
 for his latest feature profile, published in the December 7 issue of 
The Lancet
.  In the piece, Dr. Jamison reflects on his leadership role in the World Bank's 1993
World Development Report 
(WDR93) and how the new report, 
Global Health 2035: A World Converging within a Generation
, launched on the 20th anniversary of WDR93, revisits the case for investing in health and puts forth a bold new investment framework to achieve dramatic health gains by 2035.  "We are much more explicit about universal health coverage in the 2013 report", Dr. Jamison says. "The path to UHC cannot work with reliance on voluntary private insurance." 
An excerpt from the story is below.  The full article is available on The Lancet website.
Dean Jamison: Putting Economics at the Heart of Global Health
By: Richard Lane
December 7, 2013
Dean Jamison, health economist, Professor of Global Health at the University of Washington in Seattle, and co-chair of the Lancet Commission on Investing in Health, chuckles when I ask him about the need for a new Commission 20 years after the World Bank's seminal 1993 World Development Report (WDR), Investing in Health, which he led. "It has been a fun project to work on again, given the enormous change in the landscape of global health in the past 20 years", he remarks. "Health conditions have improved more than we thought possible 20 years ago. We have witnessed substantial increases in life expectancy, and a nearly halving of child mortality. The time is right to look back at the huge journey we have taken, and where we need to be heading in the next 20 years and beyond."
WDR 1993 received a vitriolic reception in some quarters, notably on the left and right of the political spectrum. "We struggled with the politics of WDR 1993 within the World Bank. The compromise was that we produced a centre left report from a centre right institution. I was proud of that and understood the criticism from the right. The shrill criticism from the left, because we had identified a role for the private sector in helping to deliver health-care programmes, was more difficult to take", Jamison says.  
More