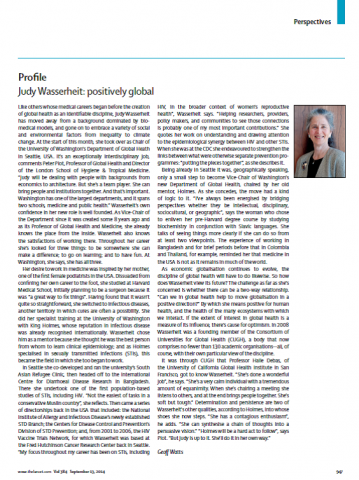 The Lancet's Geoff Watts sat down with University of Washington Department of Global Health's newly appointed Chair, Dr. Judith Wasserheit for a feature profile published in the September 13 issue of The Lancet.  The article reflects on Dr. Wasserheit's early career opportunities and the path that has led her to her new leadership role at the Department of Global Health.  The author writes, "As Vice-Chair of the Department since it was created some 8 years ago and as its Professor of Global Health and Medicine, she already knows the place from the inside. Wasserheit also knows the satisfactions of working there. Throughout her career she's looked for three things: to be somewhere she can make a difference; to go on learning; and to have fun. At Washington, she says, she has all three."
DCP3 Essential Surgery volume editor Dr. Haile Debas - who came to know Dr. Wasserheit through the Consortium of Universities in Global Health - sings Dr. Wasserheit's praises.   "She's a very calm individual with a tremendous amount of equanimity. When she's chairing a meeting she listens to others, and at the end brings people together. She's soft but tough." 
An excerpt from the story is below.  The full article available on The Lancet's webiste. 
Judy Wasserheit: positively global
By: Geoff Watts
September 13, 2014
Like others whose medical careers began before the creation of global health as an identifiable discipline, Judy Wasserheit has moved away from a background dominated by biomedical models, and gone on to embrace a variety of social and environmental factors from inequality to climate change. At the start of this month, she took over as Chair of the University of Washington's Department of Global Heath in Seattle, USA. It's an exceptionally interdisciplinary job, comments Peter Piot, Professor of Global Health and Director of the London School of Hygiene & Tropical Medicine. "Judy will be dealing with people with backgrounds from economics to architecture. But she's a team player.  She can bring people and institutions together. And that's important. Washington has one of the largest departments, and it spans two schools, medicine and public health." Wasserheit's own confidence in her new role is well founded.