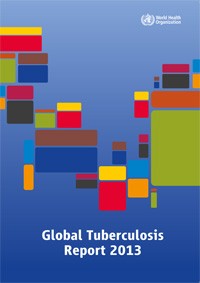 On October 23, the World Health Organization (WHO) released its latest global report on tuberculosis (TB) control and treatment trends.  The report assesses global trends in addition to examining high-prevalence countries such as South Africa.  
Key Findings
While mortality levels are decreasing by about 2 percent each year, nearly 3 million TB cases went undiagnosed or unreported in 2012.  Missed cases present a major challenge in fighting TB.  Out of the 8.6 million people worldwide with TB in 2012, 1.3 million died from the disease.  An additional concern is the number of drug-resistant (MDR-TB) cases.  Nearly 3.7 percent of new TB patients worldwide have drug-resistant strains.  Roughly 60 percent of new MDR-TB cases in 2011- estimated to be about 500,000 - occurred in the "BRICS" countries alone (Brazil, the Russian Federation, India, China, and South Africa).
Action Priorities
The report summarizes five priority steps toward achieving global TB control and treatment goals:
·        Reach missed cases;
·        Address multidrug-resistant TB (MDR-TB) as a public health crisis;
·        Accelerate the response to TB/HIV;
·        Increase financing to close all resource gaps; and
·        Ensure rapid uptake of innovations.
Download the executive summary of the report here.  To access the full report, annexes, and supplemental information visit the WHO website.