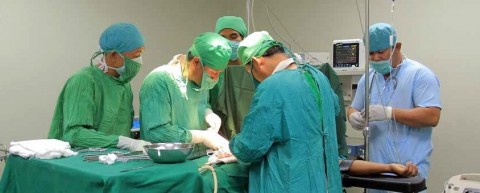 Photo credit: Chhor Sokunthea/World Bank
Surgery Could Save Millions of Lives in Developing Countries
World Bank News
"Five million people died of injuries in 2012, and 270,000 women died of pregnancy complications. Many of these deaths could have been prevented if people had better access to surgical care, says a new book published by the World Bank Group.
Essential Surgery, launched at the Consortium of Universities for Global Health sixth annual conference in Boston, is the first of nine volumes of the third edition of Disease Control Priorities (DCP3), a comprehensive review and analysis of the most effective and cost-effective approaches to global health.
The book finds that basic surgical procedures are among the most cost-effective of all health interventions in developing countries. If they were more widely available, essential surgical procedures would prevent 1.5 million deaths a year. 
About 2 billion people lack access to surgical services such as Caesarean sections or setting broken bones, even though many surgeries could be offered at district hospitals in developing countries."