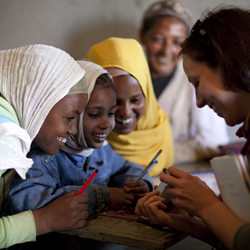 The United Nations Population Fund (UNPA) reported on August 2 that eight African countries over the next three years will receive support to ensure that girls and young women have access to family planning and reproductive health education and resources.  The governments of Mozambique, Niger, Nigeria, Sierra Leone, South Sudan, Tanzania, Ethiopia and the Democratic Republic of Congo will work with UNPA to develop sexual education programs that serve young women and girls.
What we are trying to do is to create an army of young women who would have access to comprehensive sexual education, who would be able to have access to services, who also would be able to make choices in their lives and who would have access to education, so they can develop their full potential,"said UNFPA Executive Director Dr. Babatunde Osotimehi.
Leading causes of death for young women and girls in developing countries are pregnancy, childbirth-related complications and unsafe abortions.  Nearly 16 million adolescent girls give birth annually (the majority of them in low- and middle-income countries).  After the programs are established in these eight countries, the U.N. hopes to expand into other countries that would greatly benefit from increased sexual eduaction for adolescent girls.
Click here to read the full story.