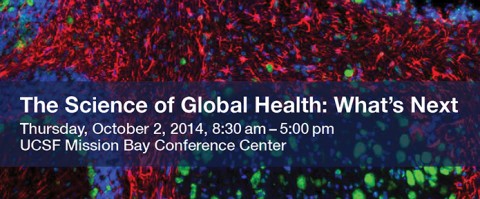 University of California, San Francisco's Global Health Sciences hosted a one-day event titled "The Science of Global Health: What's Next?" on October 2, 2014 at the UCSF Mission Bay Conference Center. Event participants learned about what's next in global health from a full line-up of speakers, many of whom are DCP3 contributors. DCP3 Essential Surgery lead editor Haile Debas shared the stage with renowned humanitarian Paul Farmer, to discuss surgery needs in low- and middle-income countries.  Dr. Farmer is authoring the foreward for the forthcoming DCP3 volume on Essential Surgery. 
Insider conversation: Essential Surgery
According to the Lancet Commission on Global Surgery, more than 2 billion people worldwide lack access even to basic surgical care. Lack of access to surgery can create permanent incapacities, with an estimated 11-15% of disability in the world due to surgically treatable conditions. Panelists discussed what is currently being done to make essential surgical services available to the world's poorest populations.
Moderator: Gavin Yamey, DCP3 Communications Technical Advisory Group Member
Panelist: Haile Debas, Essential Surgery volume editor
Panelist: Paul Farmer, Essential Surgery volume foreward author
Other DCP3 Participation
Several DCP3 editors, authors and advisory committee members joined the event as speakers and panelists:
Video:
Watch the full panel discussion between Paul Farmer, Haile Debas, and Gavin Yamey
Photos:
| | | |
| --- | --- | --- |
| |     | |
| Dr. Paul Farmer, DCP3 Essential Surgery volume editor Dr. Haile Debas, and DCP3 Communications Technical Advisory Group member Dr. Gavin Yamey discuss how to make essential surgical services available to the world's poorest populations.  |   | Panelists continue the discussion on the lack of access to basic surgical care and what can be done to close this gap.   |
Event Resources: