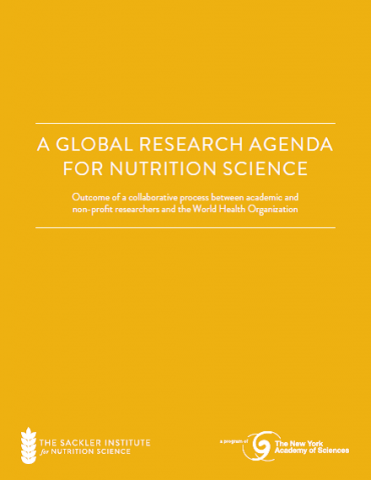 The Sackler Institute for Nutrition Science at the New York Academy of Sciences announced last week their latest global initiative that establishes a Global Research Agenda for Nutrition Science, in collaboration with the World Health Organization.  The agenda highlights "knowledge gaps" in nutrition research and helps build a consensus on the most effective ways to improve nutrition globally.
DCP3 editor Robert Black (Volume 2) served as a member of the Research Advisory Group. The Institute's advisory group was responsible for identifying key focus areas in which further research is needed in global nutrition.  The key focus areas identified by the advisory group were:
1.      Environmental and societal trends affecting food and nutrition among vulnerable populations
2.      Unresolved issues of nutrition in the lifecycle, with particular focus on the mother and child
3.      Delivery of interventions and operational gaps 
Each focus area was led by a small working group of experts, two of whom also play prominent roles in the DCP3 project. Series editor Sue Horton served on the working group for focus area #2, and Volume 2 author Zulfiqar Bhutta was a member of the working group for focus area #3. 
Click here to read the full Global Research Agenda.  More information about the Sackler Institute's research agenda can be found on their website.