Copyright: © John Hogg/World Bank. Further permission required for reuse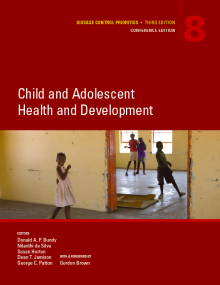 "A key message of this volume is that human development is a slow process; it takes two decades— 8,000 days—for a human to develop physically and mentally. We also know a proper education requires time. So the world needs to invest widely, deeply, and effectively— across education, health, and all development sectors—during childhood and adolescence. And while individuals may have 8,000 days to develop, we must mobilize our resources today to secure their tomorrow."
Lancet Article on CAHD
Published online 16 November, 2017
Introduction:
Society and the common legal definition seem to have defined maturity correctly: it takes around 18–21 years for a human being to reach adulthood. The evidence shows a need to invest in the crucial development period... 
News and Events
DCP3, The Partnership for Child Development (PCD), and the China Development Research Foundation (CDRF) co-hosted a country round table meeting to discuss key policy issues around child and adolescent development from a national perspective.  Held in Beijing, China, the round table meeting brought...
Dr. Donald Bundy, lead editor of the DCP3 Child and Adolescent Development volume, addressed the 34th Annual Meeting of the European Society for Paediatric Infectious Diseases (ESPID) as the keynote speaker in Brighton, UK on May 10 2016.
On Friday, May 20 in Geneva, Switzerland, DCP3 and the WHO-Eastern Mediterranean Regional office hosted a policy forum on child and adolescent health and development, which brought together policymakers and experts to share insights and perspectives in order to enhance the relevance and usability...
To obtain copies of Child and Adolescent Health and Development:

Download the entire volume from The World Bank 
Purchase copies of the volume from Amazon.
Volume citation: Bundy, D.A.P., N. de Silva, S. Horton, D.T. Jamison, and G.C. Patton, editors. 2017. Child and Adolescent Health and Development.  Disease Control Priorities (third edition), Volume 8. Washington, DC: World Bank.