Jim Pridgeon, University of Washington School of Medicine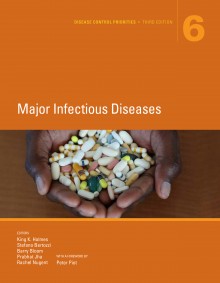 About Volume 6:
Taken together, infectious diseases are the leading cause of death globally, particularly among children and young adults.  The ongoing emergence of new pathogens and the growing threat of antimicrobial resistance make combating these diseases challenging.  Major Infectious Diseases identifies feasible, cost-effective packages of interventions and strategies across delivery platforms for prevention and treatment of HIV/AIDS, Sexually Transmitted Infections, Tuberculosis, Malaria, Hepatitis, and Neglected Tropical Diseases.  The volume emphasizes the need for strengthening health systems and increasing access to care and treatment with the goal of reducing incidence, developing novel, innovative approaches, and optimizing existing tools when resources are limited.  
Infectious Disease Deaths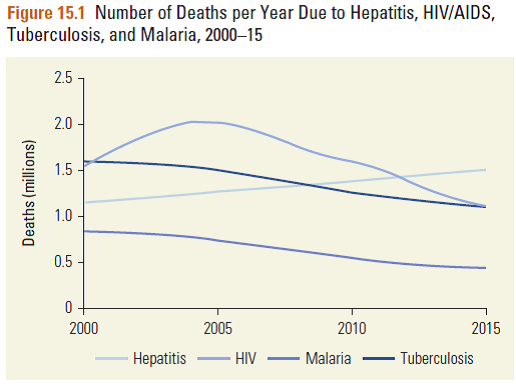 GBD 2013 Mortality and Causes of Death Collaborators. 2015. "Global, Regional, and National Age-Sex Specific All-Cause and Cause-Specific Mortality for 240 Causes of Death, 1990–2013: A Systematic Analysis for the Global Burden of Disease Study 2013." The Lancet 385 (9963): 117–71.
UNAIDS (Joint United Nations Program on HIV/AIDS). 2015. How AIDS Changed Everything. MDG 6: 15 Years, 15 Lessons of Hope from the AIDS Response. Geneva: UNAIDS.
WHO. 2015. Global Tuberculosis Report 2015. Geneva: WHO.
News and Events
DCP3 Advisory Committee member Dr. Glenda Gray, has been named one of TIME magazine's 100 most influential people of 2017. Lauded for her work as a pioneer in HIV research in South Africa- particularly mother-to-child transmission - Dr. Gray is currently conducting an HIV-vaccine study and is...
DCP3 Advisory Committee member and chapter author, Dr. Patricia (Patty) Garcia, has recently been named Peru's new Minister of Health. Dr. Garcia is also an affiliate professor at the University of Washington's School of Public Health.
A new initiative funded by the Bill & Melinda Gates Foundation will provide decision-makers with improved resources to estimate the costs of HIV and tuberculosis (TB) programs. This initiative, the Global Health Cost Consortium (GHCC), is a three-year project, launching in January 2016. Its...
Volume Editors
Coming in 2017

Download the entire volume from The World Bank 
Purchase copies of the volume from Amazon, in paperback or hardcover.