Copyright: IAEA Imagebank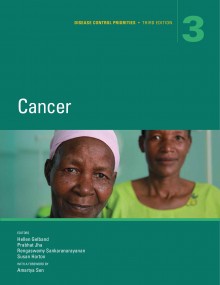 "The lesson that emerges from the well-aimed empirical analyses presented in this volume is not only that a major difference can be made in the incidence, management, and elimination of cancer, even in the poorer countries of the world, but that this can be done in cost-effective and affordable ways. Understanding and determination are the deficiencies most in need of change."
Lancet Article on Cancer
Published online 11 November, 2015
Introduction: 
Investments in cancer control—prevention, detection, diagnosis, surgery, other treatment, and palliative care—are increasingly needed in low-income and particularly in middle-income countries...
News and Events
Cancer, Volume 3 of Disease Control Priorities, third edition (DCP3), is a guide for low- and middle-income countries (LMICs) to help advance cancer control through the middle of the twenty-first century. It provides the means to help meet the new Sustainable Development Goals and provides a...
DCP3 cancer lead author, Dr. Benjamin Anderson, was interviewed by ecancer TV while attending the World Cancer Leaders Summit on November 18 in Istanbul, Turkey. Dr. Anderson discusses his contributions to new guidelines to improve breast cancer treatment in low- and middle-income countries. Dr....
DCP3 cancer volume lead editor, Hellen Gelband, contributed a piece to the World Bank's blog, "Investing in Health: News and Views in Healthy Development. Gelband discusses the global neglect of cancer and highlights the importance of building a sustainable infrastructure for cancer control.
Volume Editors
To Obtain Copies of the Cancer volume:

Download the entire volume from The World Bank 
Purchase copies of the volume from Amazon, in paperback or hardcover.
Volume citation: Gelband, H., P. Jha, R. Sankaranarayanan, and S. Horton, editors. 2015. Cancer. Disease Control Priorities, third edition, volume 3. Washington, DC: World Bank.