Copyright: Julia Manzerova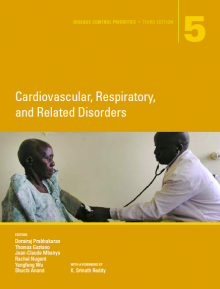 About Volume 5
Cardiovascular, respiratory, and related diseases and conditions, share a set of important risk factors. Conditions covered in this volume are closely related, share many risk factors, precursors and sequelae for the others, and therefore have common control measures. They are responsible for a large and growing share of health burden in the world – a burden that is rising especially fast in low- and low-middle income countries that are ill-equipped to prevent them.  This volume summarizes the current knowledge and management strategies for conditions associated with the greatest burden, and for which there are interventions which are both effective and scalable. Our goal is to guide policy makers attempting to address the leading causes of death in the world.  
Volume Editors
Coming in 2017

Download the entire volume from The World Bank 
Purchase copies of the volume from Amazon, in paperback or hardcover.