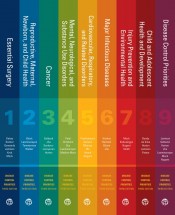 DCP3 editors and authors joined a panel discussion at a symposium hosted by University of California, San Francisco's Institute for Global Health Sciences on January 26, 2018.  The panel highlighted not only UCSF's contributions to DCP3 but also provided an overview of key messages and findings from the series and generated important discussion amongst the panelists about resource allocation and priority setting for global health sciences.
Introduced by DCP3 author and Advisory Committee member Jaime Sepulveda, Series Editor Dean Jamison provided an overview of the series and presented DCP3's cluster of essential packages and recommendations for intersectoral action for health. Jamison's remarks were followed by a panel discussion amongst Jamison, Sepulveda, Volume 1 lead editor Haile Debas, and Volume 9 author John Peabody.
Several UCSF faculty and staff played an important role in the development of many DCP3 volumes, most notably Volume 1 (Essential Surgery), Volume 6 (Major Infectious Diseases), and Volume 9 (Disease Control Priorities).
To access a video recording of the event, visit the event's website.
Resources: